'Te Ao Marama, The World of Light' (2004)
350 x 260mm, height 450mm

This piece is an interpretation of the separation story of Ranginui, the sky father, from the earth mother, Papatuanuku, and the subsequent entering of light, growth and knowledge into this world. The event of light's passage, is represented by the takarangi or double spirals. Papa, is represented by the upper edge of a puipui, and the lower taniko edge of a kaitaka, represents Rangi.
The two parents lay in a perpetual embrace. Between them, lived their children within the world of night, or Te Po. Over time however, the children fidgeted and grew restless in this world of darkness, and eventually decided they must separate their parents. The children were, Tangaroa,-God of the sea, Tumatauenga,-God of man and war, Rongomatane,-God of agriculture, and Tane,-God of the forest, birds and other animals. Each tried in vain to push apart the lovers, but it was the lateral thinking and resourceful Tane, who thought to place his shoulders down onto the earth mother and push up with his legs, and finally brought about the separation.

Tane mated with many female forms and produced a multitude of children. The union with Rere-noa, created climbing plants such as the rata tree, and with Para-uri, tui was born. When Tane mated with Punga the offspring were insects and other 'ugly' creatures. Tane also adorned Rangi with stars, or nga whetü. The kauri tree is a representation of Tane's name sake, Tane Mahuta of the Waipoua forest in Northland.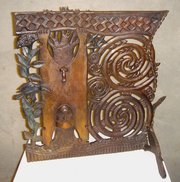 Front